Hello everyone! This is the new thread dedicated to bass presets for Pod HD series.
The original thread was located in the community "Long forgotten bass players", but I think it will be better here.
I hope that this thread will become a place to share experiences, knowledge, and above all, our presets for bass!
To start the discussion, here's my Bass Setlist for HD500 with 20 patches:
HD500 Setlist V3 - "High Output Bass Amps" (16-Jan-2013)
http://www.mediafire...h4yta8468nawfzt
How to convert Setlists:
If you have a different Pod HD, you can use this tool: http://www.jzab.de/content/pod-hd
All this presets are set on a "single arm chain":

What you get with this Setlist is a high volume of output using a Bass, forget the messes that involved the dual input configuration, and make the pod HD works in a very similar way to how the Bass Pod worked (regarding to mono wet and dry outputs). But here you have the advantage of being able to play your bass in true stereo, too.
Now you can have a balanced sound between the bass and guitar, and record comfortably in your sequencer.

I left the presets configured as inputs Guitar:Same, but please, I do not want to contribute to this confusion.
Using this new configuration (let's call it "single arm chain"), the input 2 has absolutely no effect on the sound (when using the config 1 mentioned below)

If you want to record two mono tracks (wet and dry, panned all the way L/R), then it makes sense to use the second input as "same" (when using the config 2 mentioned below). Unmuting the Channel 2 you actually obtain a completely dry signal from your instrument.
Of course you can also use a combination of both if you want to use another instrument on channel 2.
But most important is to understand that in this way we have two inputs completely separated from each other without causing strange effects in the other, or interfere in any way.

As I said before, for me this has been a great discovery. Thank you very much to Meambobbo.
This is the structure for v3 patches: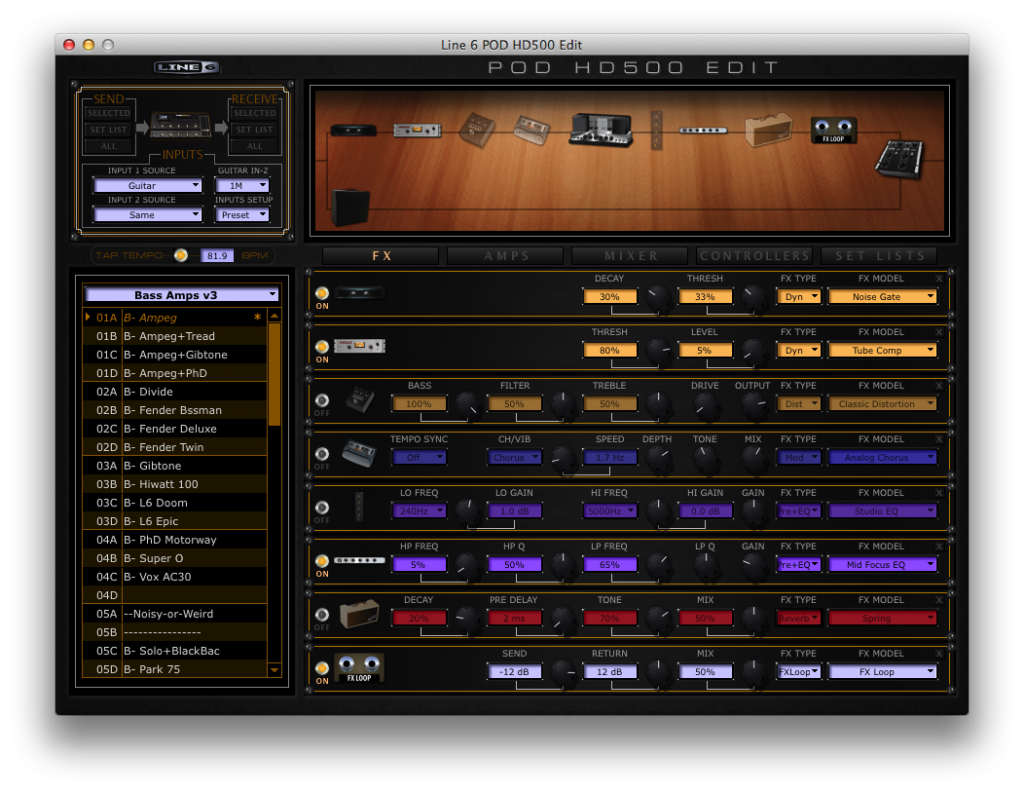 1- Noise Gate.
I'm currently using noise gates, until I learn how to use the hard gates. I'm a little slow! More details here: http://foobazaar.com...Tone#noiseGates
2- Tube comp.
Almost same settings than before.
3- Classic Distortion.
Still here, for now. You could also use a wah pedal or whatever else here, if you prefer.
4- Analog Chorus.
I removed the ugly delay in front of the amp, and now I have a chorus. I like this effect for bass, and I think this is the best sounding of the three possible. The Dimension and Triple chorus does not sound bad, but have far fewer parameters and are therefore less controllable. In contrast, analog chorus has many controls, a vibrato mode, a tone control, etc. For now I used a basic setting, but it sounds pretty good with the reverb.
5- Studio EQ.
Still here, for now. I'm not using it much now, because I have found that it can be a specific setting for each bass you use. Maybe try a parametric EQ, but it seems much more complicated for me: http://foobazaar.com...hd/toneGuide/eq
6- Mid Focus EQ.
Hi and Low pass filters, now with settings 5%-65%. Gain between 0-30%
7- Spring Reverb.
I used a reverb that is noticeable, but not annoying. Sounds great alongside the chorus. At least I like to use them together to have a good time.
Note that when using chorus+reverb, overall volume will also rise up! I have had this in mind, so that the volume is not excessive when active.
Still, if you play too hard, this could produce clip, so look first at gain settings I put into the Mid EQ.
8- FX loop.
I´m using a Boss RC-300 loopstation here.
About the Inputs and Mixer settings using the config above (single arm chain):
Config 1: Just to play (Stereo)
Input 1 - Guitar
Input 2 - (Doesn´t matter, since PathB is muted.).
Mixer - PathA +12 dB center, PathB Muted (panned 100%R just for convenience when using config2)
Config 2: Recording
(2 mono channels, Left Wet (processed), Right Dry (unprocessed, or DI)
Input 2 - Guitar
Input 2 - Same
Mixer- PathA +12dB 100% Left, PathB +12dB 100% Right
So you can:
Record a stereo track selecting the stereo input, and then split the track on two separate mono tracks on your DAW.
OR, arm two mono tracks on your secuencer selecting each separate mono input, and record both at the same time.
Personally I like best the second approach, becouse I´m using Logic Pro, maybe in your secuencer there is an easier or practical way to do the first one.